Jun 5, 2017-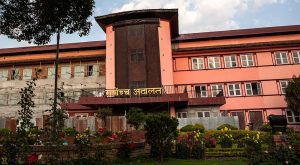 A writ petition has been filed at the Supreme Court on Sunday seeking annulment of the Election Commission (EC) decision to hold re-election at Bharatpur metropolitan-19 in Chitwan.
Advocate Tulasiram Pandey of Bharatpur -19 filed the writ petition stating that the apex court quash the EC decision and order re-count of the votes in the disputed ward.
The EC, on Saturday, had decided to hold re-election at Bharatpur-19 after reviewing a report, submitted by the EC probe team and chief election officer, regarding the tearing of ballot papers during the vote count.
CPN (Maoist Centre) cadres had allegedly torn 90 ballot papers on May 28.
The report stated that the incident that unfolded on the day amounted to capturing of the vote counting station, making way for the EC to decide on holding re-election as per the Local Level Election Act.